Description
The Agile Scrum Foundation certification training is a certification that validates a professional's knowledge in agile methodologies and scrum practices. Agile methodologies are popular approaches in software development, while scrum practices include software development by cross-functional and self-managed teams, producing working code at the end of each iteration or Sprint.
This course is accredited by Exin.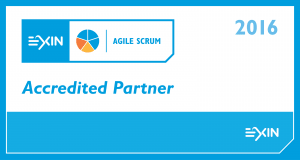 Agile Scrum Foundation certification helps professionals in demonstrating:
Ability to implement agile scrum tools,
Capability to teach agile and scrum practices,
Competence to ensure Scrum is understood and enacted by the team.
Our Agile Scrum Foundation training program includes high-quality e-learning content for online self-learning. It is the ideal course package for aspiring professionals who want to make their career in project management.
The Agile Scrum Foundation course is focused on providing an improved understanding of Agile and Scrum methodologies and practices.

The Agile Scrum Foundation Exam Fee is included in this Package.