It is a pleasure to announce that Management Square is now an Accredited Training Organization for delivering Agile Scrum Foundation training and examination from EXIN.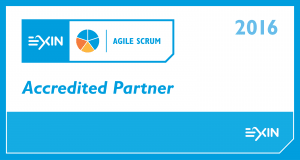 What is Agile Scrum Foundation?
Agile Scrum Foundation is a certification that validates professionals' blended knowledge in Agile methodologies and Scrum practices. Agile Scrum is about working together to successfully reach the goal. Agile methodologies are popular approaches in software development and are increasingly being used in other areas. Scrum practices include establishing cross-functional and self-managed teams, producing a working deliverable at the end of each iteration or Sprint.
About EXIN: 
EXIN focuses on expanding the knowledge of ICT Professionals by applying its expertise in validating their competences. To support continuous growth, EXIN offers internationally recognized certification programs that cover all ICT competence areas. These competence areas are derived from the internationally recognized e-Competence Framework (e-CF).